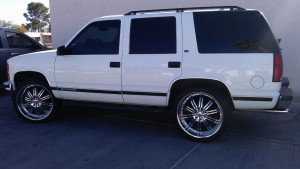 Current Specs:
1999 Chevy Tahoe on DeFy 24" rims, Nexen 305/50/R24 Tires, 5.7L Vortec V8, 4×4, E3 Plugs, K&N Air Intake, Dual Flowmaster Exhaust, 3:73 posi rear end.
Stereo:
Lanzar 320W In-Dash DVD w/ 4.3 screen connected to 8 Factory speakers. Ultimate 3000W Amp w/2 MTX Jack Hammer 12" Subs in a long vent ported box
The gain on the amp is currently run about half, any higher and the subs will go up in smoke! Potentially the whole system pushes 3320W I think its running at about 1820W. Honestly it sounds amazing. For absolute clarity it could use replacements for the factory speakers.
Alarm System:
I will be vague with information about the alarm. The truck has push button start along with all the standard sensors plus a remote pager and a few extra options. 😉
Not exactly a review haha… but its content! I will edit this post as I complete more mods. Its kind of like a list to help me remember. More coming soon…
Eric