My review of the HTC Sensation 4G…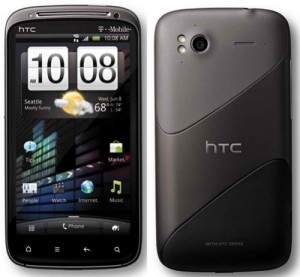 Vibrant 4.3-inch (540 x 960) Super LCD screen, dual-core 1.2GHz Snapdragon processor, and Android Gingerbread (2.3) with Sense 3.0. Rear lens' resolution to 8 megapixels, 2 LED flashes, video frame rate to 30fps at max 1080p resolution. Speed-wise, this HSPA+ device has download rates as fast as 14.4 Mbps.
I bought the phone about 4 months ago. Its a great device and pretty solid. The screen is durable and so is the back cover. I have never used a screen protector or a case and my device is in nearly perfect condition. 4G service is incredibly fast but kind of spotty around the edges of Tucson AZ.The camera works excellent but lacks features other phones have such as panoramic pictures. Under extensive use battery life is short, 4 hours. If software/features are disabled the phone will last a full day under regular use. Wifi hotspot and other features drain the battery pretty quickly. Just another tmobile android touch screen phone but better than previous such as the mytouch 4g.